Low Prices. Big Selection. Friendly Service.

15260 East Iliff Avenue, Aurora, Colorado 80014
303-751-6935
NEW!

ONLINE STORE! BUY ONLINE! YOU CAN NOW ORDER FROM OUR ONLINE STORE FOR

CURBSIDE PICKUP OR DELIVERY

!




WHY ORDER ONLINE?


1. MAKE SURE THE ITEMS YOU WANT ARE AVAILABLE WHEN YOU WANT THEM!
2. PICKUP: IT'S EASY AND SAFE AND SAVES YOU TIME!
3. DELIVERY: SAVE A TRIP - PARTICULARLY GREAT FOR LARGE ORDERS!

As an active Chambers Buyer's Club member, you already have an account in our online store that is linked to your CBC account. Every purchase you make online will add rewards points to your CBC account that you can redeem in store!

To confirm your account simply:

1. Go to this page on our website - https://tinyl.io/4FMg - then scroll down and click '

Lost your password

', and
2. Please enter the email address that received this email, and
3. You will then receive an email that will allow you to set up a new password for your account (we couldn't do that for you of course).
4. You can then login and start placing orders for curbside pickup or delivery!!

DELIVERY
We deliver Monday through Saturday to ZIP codes 80012, 80013, 80014, 80015 and 80017.

Our online store will ask you to select a Delivery Date and a Time Slot (we deliver between 10am and 2pm as well as between 2pm and 6pm and require a 4 hour lead time).

Orders over $150 get FREE delivery. Or, there is a low $10 delivery fee.

CURBSIDE PICKUP
Curbside pickup is always FREE and we only need a 30 minute lead time.

We look forward to receiving your online orders!

REMINDER - TASTINGS CANCELLED UNTIL FURTHER NOTICE!


With regret, and as a purely cautionary move, we have cancelled all tasting events until further notice. We hope everyone understands.






OUR STORE IS OPEN!



Chambers continues to deploy extensive sanitizing and hygiene procedures as recommended by the authorities. Our staff is directed to self-quarantine and seek medical help if they develop any symptoms - THANKFULLY, SO FAR EVERYONE IS STILL HEALTHY! We will do everything we can to take care of our staff and ensure our customers are safe when they visit!





CURRENT HOURS
Along with grocery stores, etc. we continue to adjust our hours to allow time for restocking and cleaning shelves.

We are now open as follows:

Monday to Thursday: 9am to 9pm
Friday to Saturday: 9am to 10pm
Sunday: 10am to 8pm





We hope to see you soon!



Stay healthy!









CURBSIDE PICKUP!



We still provide curbside pickup service!

Please call 303-751-6935 to place your order, and we will let you know when and where to pick it up!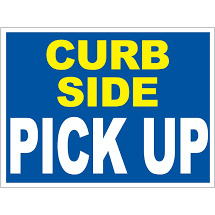 NEW - Featured Coupons!
Don't miss out - you can SAVE BIG with these featured coupons. You can see more coupons and show/print them here: https://tinyl.io/46I5


French Wines



750 ml


Not valid on sale items or any other discounts

15% OFF



With this coupon - Expires 9/8/21





Gin

750 ml
Not valid on sale items or any other discounts

15% OFF



With this coupon - Expires 9/8/21



Craft Beer

6 pk
Not valid on sale items or any other discounts

$1 OFF



With this coupon - Expires 9/8/21
September 2, 2021





LAST DAYS!

YOU CAN WIN ONE OF FOUR $50 GIFT CARDS FOR LABOR DAY! See below for details!

See all our Weekly Specials below!

See our "What's New At Chambers?" below - don't miss out!

It's Gin time! See below for specials!

Our tastings have been cancelled - see details above.

Our September Beer of the Month is Breckenridge Brewing. See below.

Chambers Wine & Liquor is Aurora's largest liquor store with over 15,000 square feet and 8,000 different products to choose from. Low Prices. Big Selection. Friendly Service. Come visit us today and experience the Chambers difference!
You Can Win For Labor Day!
You can win one of FOUR $50 Gift Cards! See image for details and click here to enter or stop by the store!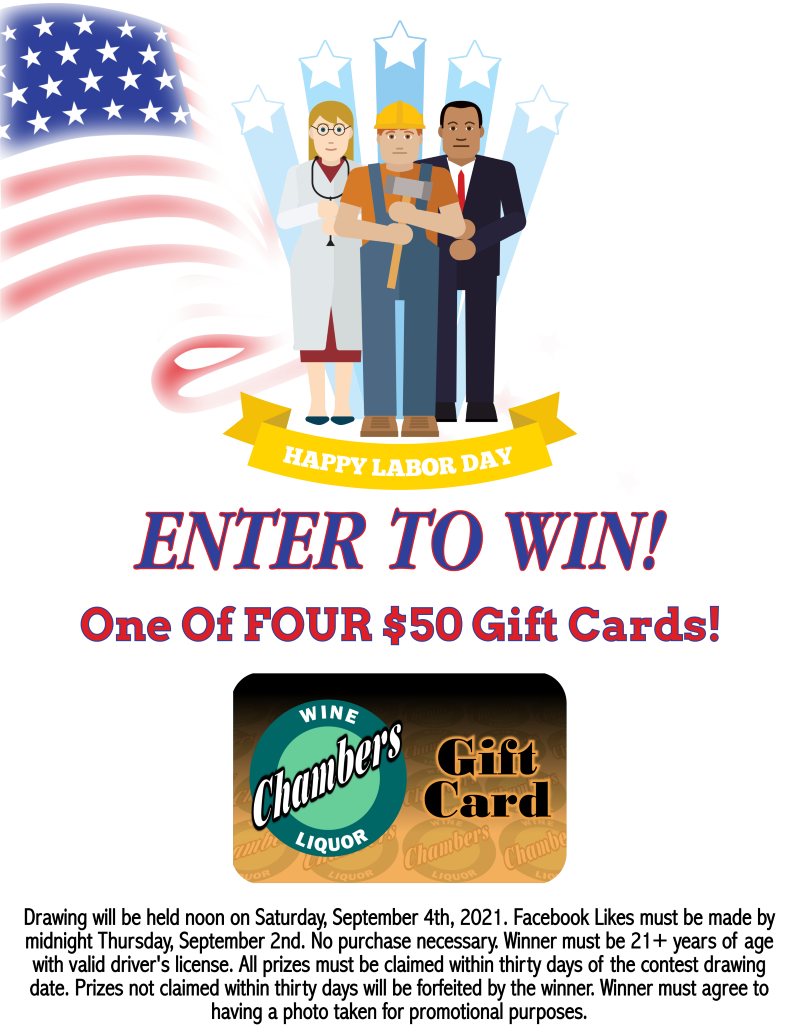 What's New At Chambers?
FOUNDERS ALL DAY VACAY

15 PK


$17.99
You're going to need a bigger suitcase – All Day Vacay has arrived. Take a well-earned respite from the mundane and let this session wheat ale whisk you away with its slight, summery sweetness – complemented by delicate notes of citrus. Whether it's a staycay or vacay, it's the perfect companion for any type of adventure.
Will's Pick 6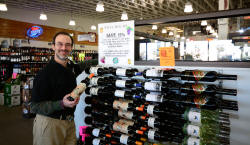 Check out Will's Pick 6 for September!

There are a variety of exceptional wines that could be perfect for you!

You can

SAVE 15%

when you purchase any 6 from Will's selections for the month.


Click here to see Will's Picks!
Beer of the Month - September
Breckenridge Brewing - All Types

$1.50 OFF - 6 Packs

Follow Us On Instagram!
Check out our Instagram account for news, special products, discounts and more!

It's Gin Time!
Gin is on sale this week at Chambers! Check out these featured items!




| | | |
| --- | --- | --- |
| GIN | SIZE | SALE |
| BOMBAY SAPPHIRE | 1.75 L | $35.99 |
| FLEISCHMANN'S | 1.75 L | $11.99 |
| FORDS OFFICER RESERVE | 750 ML | $36.99 |
| HENDRICK'S | 1.75 L | $59.99 |
| NEW AMSTERDAM | 1.75 L | $19.99 |
| NOLET'S | 750 ML | $35.99 |
| TAAKA | 1.75 L | $9.99 |
| TANQUERAY ORIGINAL | 1.75 L | $37.99 |
Weekly Specials
Save on Chambers Weekly Specials including Wine, Liquor, Beer and Buyers Club.

Check back every week to find savings on many items; there is something for everyone!

Click here to see our Weekly Specials.
Coupons
Chambers Clip and Save Coupons - Pocket even more cash with our money saving coupons!

This week's Coupons include these great savings and more!

• French Wines - 750 ml –

15% OFF with coupon!



• Gin - 750 ml –

15% OFF with coupon!



• Craft Beer - 6 pk -

$1 OFF with coupon!



Click here to see our Coupons - https://tinyl.io/46I8. Offers valid through expiration date. Limited to quantity on hand. No rain checks.
| | |
| --- | --- |
| Follow Us On Facebook | Follow Us On Instagram |
Copyright © 2021 Chambers Wine & Liquor. All rights reserved.
[COMPANY_FULL_ADDRESS]

Unless stated otherwise, all sale prices expire on the 6th day after the date of this email.

Phone: 303-751-6935
www.chamberswineandliquor.com
Store Hours
Monday-Thursday: 9:00am to 9:00pm
Friday-Saturday: 9:00am to 10:00pm
Sunday: 10:00am to 8:00pm
To unsubscribe from future mailings, click here. To view our privacy policy, click here.